Meeting Rooms
The Hotel Sépia is the perfect place to organize small or medium-size meetings. Our five rooms can comfortably welcome up to 200 guests. At your disposal are many essential services ensuring the success of your business meetings: wireless and high-speed Internet access, free parking, audiovisual equipment, etc.
At the Hotel Sépia, we understand the importance of coffee breaks. That's why we put at your disposal Nespresso coffee machines so you can taste a first-class quality coffee and recharge your batteries.
Join business and pleasure while staying at the Hotel Sépia! Our contemporary and comfortable rooms are perfect to fill out your free time between two meetings or to simply relax.  The Galopin restaurant, for its part, offers a sophisticated cuisine for you to savour in good company.
In order to help you plan your future meeting, take a look at our room plan: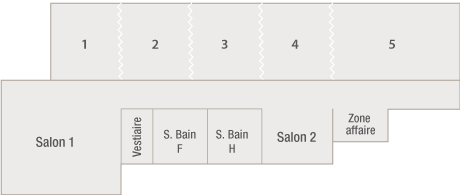 | | | | | | | |
| --- | --- | --- | --- | --- | --- | --- |
| Rooms | Surfaces ft2 | | | | | |
| Executive | 513 ft2 | 25 pers. | 35 pers. | 18 pers. | 24 pers. | 40 pers. |
| Brainstorming | 513 ft2 | 25 pers. | 35 pers. | 18 pers. | 24 pers. | 40 pers. |
| Puzzle | 513 ft2 | 25 pers. | 35 pers. | 18 pers. | 24 pers. | 40 pers. |
| Strategy | 513 ft2 | 25 pers. | 35 pers. | 18 pers. | 24 pers. | 40 pers. |
| Career | 864 ft2 | 50 pers. | 70 pers. | 30 pers. | 45 pers. | 70 pers. |
| Rooms combined | 2916 ft2 | 150 pers. | 200 pers. | ----- | 150 pers. | 230 pers. |
For all meetings reservations or for a group of rooms inquiries, please contact Mrs.Nathalie Côté at 418 653-4941, or by email at n.cote@hotelsepia.ca